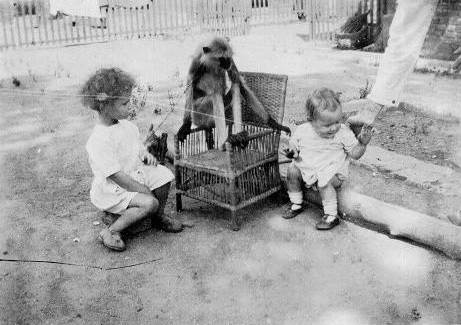 Valmay & Betty Wardley with Soondhru the monkey
I'm not sure how my DUNCAN family ended up in India yet, but I do know how all the others got there. Family stories say the Duncan's came from Dundee.

Lewis Andrew COLLETT arrived in India aboard the ship "Duke of Montrose" on 4th July 1792 and served in the Bombay Grenadiers for 20 years ending up as Garrison Sergeant-Major in Surat. When he got out of the Grenadiers he then set up his own business as a carriage builder in Girgaum Back Road, Bombay.

Henry HOLDWAY embarked for Bengal 9 May 1840 aboard the Ship 'Malcolm'. Henry was a Drill Sergeant in 1850. By 1854 he was a Rough Riding Sergeant and by 1859 he was Overseer of the Stud. When he left the Bengal Horse Artillery he became a Guard of the East India Railway.

Valmay Wardley marries John Swinborne at St Martins, Jhansi
Gustav KUHLMEY (born in Prussia) came out to India from London around 1883 with his wife Pauline and their eldest son Franz to take up the position of Bandmaster for the 28th Punjab Native Infantry at Peshawar. He then went on to be Musical Director for the Presidency Volunteers in Calcutta and in 1888 the Royal Bengal Academy of Music gave Gustav the title of Sangita-Acharyn, or Professor of Music, the diploma being accompanied by a handsome gold armlet or badge bearing an inscription to that effect. In 1891 Gustav left the Calcutta Town Band and became Bandmaster for the 17th Bengal Native Infantry. Unfortunately Gustav died young in Agra leaving a wife and eight children.
The Ships Logs for the Indiaman "Royal George" (L/MAR/B/17L) show that Private Joseph Norman of the 14th Regt. of Foot boarded the ship at Portsmouth on 19th June 1807 with his wife Eleonor bound for Madras. For some reason Joseph & Eleonor were transferred the the Indiaman "Windham" on 22nd August 1807 in exchange for Private Willm Gillian and his wife. The "Windham" arrived in Madras and the troops disembarked November 1807. The troops were quartered at Fort St. George.
Charles Duncan ROBERTSON was Hospital steward HM 11th Light Dragoons. Still looking for evidence of him arriving in India about 1820.